Thank you to all our show sponsors and partners!

NVS Kitchen and Bath is a full-service home remodeling contractor located right in Northern Virginia. With over 36 years of remodeling experience, we pride ourselves on delivering the highest quality customer service to our clients. From kitchens and baths to basements and bump-out additions, we guide our clients every step of the way. With our in-house design team cabinetry distribution warehouse, make it easy to find the right fit for your design project.
We combine high-quality workmanship, superior knowledge, and industry experts.
We take our 36 years of experience with us on every job.
We pride ourselves on our customer service and satisfaction.
We built our showroom for our clients to be able to experience products firsthand.
We use our own designers to make your dream become reality.
"We own homes too; that's why over 36 years ago, we decided to create a remodeling process we would want to go through – one without pressure, without hard-selling, without limited options. Remodeling should be an enjoyable process from start to finish, and it can be with our three-step process – guidance, choices, and service. Start today by scheduling a complimentary in-home consultation with one of our experienced sales consultants." – Glen Miracle, Founder and President
Over the last three decades, NVS's clients have found it extremely helpful to see vignettes of kitchens and bathrooms in person. We built our 6,000-square foot showroom in Manassas to provide an opportunity for you to see exactly what cabinetry, fixtures, flooring, countertops and other materials you'll love in your own home. We've also added our McLean Design Studio in March 2020 to better accommodate clients inside the Beltway.
---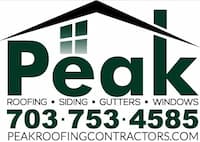 Peak Roofing Contractors, Inc. is proud to be the official roofing sponsor of the Capital Home and Garden Show.

We are a family-owned and operated home exterior company located in Warrenton, VA. We service all northern Virginia out to the Shenandoah Valley and down to the Tidewater area. With over 20+ years of experience, you can trust Peak for all of your home improvement needs.

Peak provides award-winning residential and commercial services, not limited to roofing. We can help you improve the entire exterior of your home with siding, gutters, windows, doors, attic fans, sky lights, sun tunnels, and more!
Our mission is to provide our customers with the highest quality of workmanship, materials, and product knowledge available in the Northern Virginia roofing industry. We accomplish this goal using a three-step approach:
Offer a wide range of products to meet your needs and budget.
Provide you with the tools and knowledge necessary to make an informed decision.
Dedicate ourselves to your complete satisfaction throughout all phases of the project, from beginning to completion.
We hope you will enjoy the Capital Home and Garden Show, and stop by our booth!!
---

THANK YOU TO OUR 2022 SPONSORS & PARTNERS: