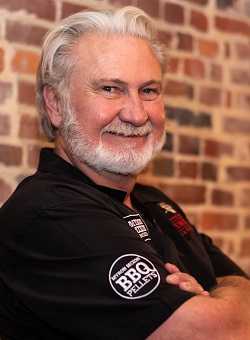 SEE MYRON MIXON, STAR OF COOKING CHANNEL'S BBQ PITMASTERS

As a five-time world champion, Myron Mixon is known as the "winningest man in barbecue". Star of TV's "BBQ Pitmasters" and a regular on TV network shows like "Today Show", "Good Morning, America" and "Fox & Friends", he's the chief cook of the Jack's Old South Competition Bar-B-Que Team, the four-term Mayor of Unadilla, GA and founding partner in Myron Mixon's Pitmaster BBQ Restaurant in Old Town, Alexander, VA and Hoboken, NJ.
"New York Times bestselling author of five cookbooks, host of "Smoked" and star of "BBQ Pitmasters" and "BBQ Pitwars" on Cooking Channel and Destination America. In addition to his books, Myron's products can be found in retail stores across the country, including his own line of smokers/grills and sauces and barbecue rubs.


Visit www.myronmixon.com for more information.

Appearing on Saturday, September 24th at 12:00 PM.