2023 EXHIBITOR KIT INFORMATION WILL BE POSTED CLOSER TO EVENT DATES
MOVE-IN:
| | |
| --- | --- |
| Tuesday September 21, 2021 | 8:00 a.m. - 5:00 p.m. |
| Wednesday September 22, 2021 | 8:00 a.m. - 5:00 p.m. |
| Thursday September 23, 2021 | 8:00 a.m. - 5:00 p.m. |
*Please note that exhibitors will be called with specific move in dates and times - we ask that you come as close to your designated time as possible to make the move-in process smooth for everyone! Please call your sales representative if you have questions or concerns!
Show dates and Hours:
| | |
| --- | --- |
| Friday September 23, 2022 | 10:00 a.m. - 9:00 p.m. |
| Saturday September 24, 2022 | 10:00 a.m. - 9:00 p.m. |
| Sunday September 25, 2022 | 10:00 a.m. - 6:00 p.m. |
MOVE OUT:
| | |
| --- | --- |
| Sunday September 25, 2022 | 6:00 p.m. - 10:00 p.m. |
| Monday September 26, 2022 | 8:00 a.m. - 12:00 p.m. |
Exhibitor Regulations
In an effort to continue to improve the exhibit quality of the Fall Capital Home Show, we are asking all exhibitors to do the following:

1. All exhibit booths must have some type of flooring. 100% of the exhibit booth floor must be covered. Duct tape is not allowed in securing the carpet to the floor. Double sided tape must be used.

2. All tables must be professionally skirted. Skirting must be provided for all exposed areas of the table. Skirting must go from the edge of the table to the floor. All skirting must be pressed and neat. Tablecloths (plastic or fabric), pieces of fabric and bed sheets are not permitted.

3. All signs must be professionally prepared. No handwritten signs are allowed.

4. All exhibit booth walls are to be completely finished. No wires, frames, wood, etc…should be exposed for the public or for your neighbors to see.

5. All areas of the exhibit space agreement must be completed. Please pay special attention to the product listing.
HOW-TO ENHANCE YOUR COMPANY'S ONLINE EXHIBITOR LISTING
Your basic listing will be uploaded to the website when you book your booth. Within 24 hours you will receive an automated email to enhance your listing. This link can be used multiple times and you can make updates and changes to your listing until ONE day after the show commences. If you have any questions regarding the online exhibitor listing or do not receive the link, please email JenK@mpeshows.com.
Need help with your listing?
View the tutorial video - https://youtu.be/ecSxq1oKuYg and the FAQs.
AREA HOTELS
Courtyard Dulles Airport Chantilly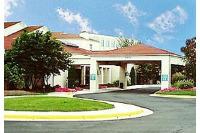 3
935 Centerview Drive
Chantilly, VA 20151
Phone: 703-709-7100


Marketplace Events has reserved a room block for exhibitors to utilize during the week of the show. Reservations made under the room block receive a special rate of $109 for a king room. Reservations must be made prior to or by August 22, 2022, to receive this rate.
* Please note Breakfast is not included in this room rate.
How to Make Your Reservation:
Call Reservations to speak with a live agent:
At this time, your guest may call (800) 321-2211 and identify themselves as part of the Capital Home Show Room Block at the Courtyard Dulles Airport Chantilly to make their reservations at the group discounted rate.
Online:
They may also book directly online using the link below:

Scam Alert!
If you have received any information regarding the Fall Capital Home Show that is NOT from Marketplace Events, please let us know and do not give them your information.

Click here for more information.